In This Section
Brian Coer, BSN, RN, Receives The DAISY Award for Extraordinary Nurses
By

Rachel Dow

November 27th, 2018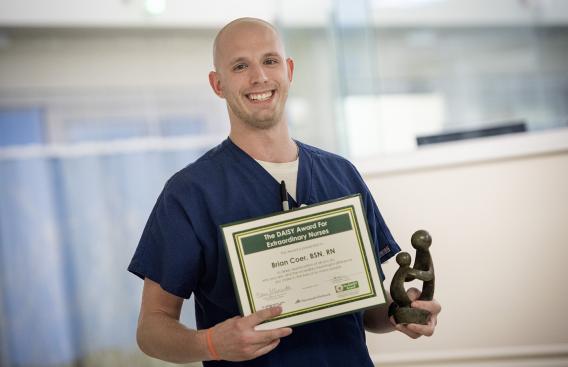 Brian Coer, BSN, RN, clinical nurse in the Surgical Intensive Care Unit was giving change of shift report to the charge nurse in the conference room when a group of colleagues and nursing leadership filled the room and told him he was the winner of The DAISY Award for the quarter. "We told the charge nurse taking over for Brian to make sure their report lasted until 7:30 am, which was the time of the surprise reception. It was a team effort to make sure Brian wasn't put on call, floated to another area or sent home early. The look on his face as he realized what was happening was priceless!," said his supervisor Laura Lornitzo.
A grateful family member who said Coer helped him through his partner's death nominated him for the award. Coer, who regularly works the night shift, cared for the patient who was admitted after he suffered a severe stroke. Sharing that he remembered the patient and his family member, Coer said, "Over the course of my shift, I worked to allow the two of them privacy, and made sure the family member was comfortable. He and I spoke at length about how they met and he shared stories of their long life together. Despite the reason they were on the unit, he lit up when reminiscing. After the patient passed, I walked him to the entrance to make sure he was not alone."
In his nomination letter, the family member wrote, "Brian sat with me until right near the end. I couldn't have handled it as well as I did if I was there alone. I can't tell you all how much I appreciated everything Brian did, giving me time to say my final goodbyes and hold them one last time."
Chief Nursing Officer Karen Clements presented Coer with The DAISY Award, part of an international program that rewards and celebrates the skillful compassionate care nurses provide every day. "Patients and families expect their nurse is going to manage complicated equipment and administer medications with expertise. And when a nurse makes a personal connection or does something small but meaningful, it makes a huge difference in their experience. Thank you for the care you provided this patient and their family. We salute and honor you."
Coer came to Dartmouth-Hitchcock (D-H) as a nurse resident after completing his Bachelor of Science in Nursing Degree at the University of Maine. "When visiting during the application process, I was enamored with the research projects and innovation happening at D-H. I thoroughly enjoyed the area where, while working at a Level 1 Trauma Center, I was able to go hiking, boating, skiing, and spend my days off outdoors."
About receiving The DAISY Award Coer said, "It is a huge honor to receive The Daisy Award. However, this award is a reflection upon all the nurses at Dartmouth-Hitchcock and throughout my nursing career who have served as my role models and shaped me into the nurse I am today. I can only hope to continue to develop over the course of my career and am humbled to have been nominated amongst the many wonderful nurses I work alongside daily. It means the world to me that a patient's loved one took the time to nominate me, and I wish him the best, it was a true honor caring for them both."
About The DAISY Award
Dartmouth-Hitchcock is proud to be a DAISY Award Hospital partner since 2011. The DAISY Foundation was established by the family of J. Patrick Barnes after he died from complications of the auto-immune disease Idiopathic Thrombocytopenia Purpura (ITP) in 1999. DAISY is an acronym for diseases attacking the immune system. During his hospitalization, they deeply appreciated the care and compassion shown to Patrick and his entire family. When he died, they felt compelled to say "thank you" to nurses in a very public way, and they established created The DAISY Award in his honor.
Anyone can say thank you to an extraordinary Dartmouth-Hitchcock nurse by nominating them for The DAISY Award here.