In This Section
Dartmouth-Hitchcock Breaks Ground on Manchester Expansion
By

Rick Adams

May 14th, 2019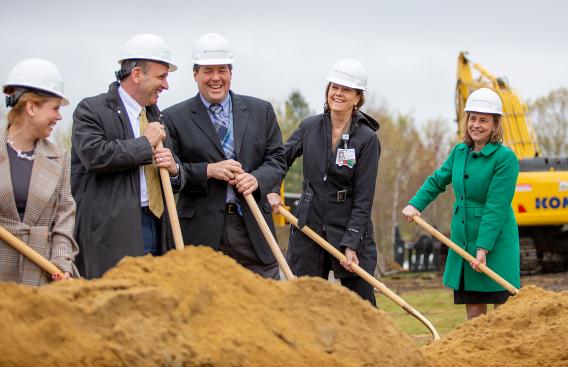 Ground was formally broken on Tuesday, May 14, for a new 90,000 square-foot expansion of Dartmouth-Hitchcock's Manchester clinic. An Ambulatory Surgery Center will include state-of-the art operating rooms, including ones dedicated for pediatric patients. The new space will include expanded laboratory, imaging and clinical services as well as an onsite café with outdoor seating.
"This expansion is very important for Dartmouth-Hitchcock Manchester," noted Dartmouth-Hitchcock Health CEO and President Joanne M. Conroy, MD. "It's one of our oldest facilities, and it's currently at capacity. This expansion will double the square footage and improve care in a number of important ways, including the addition of our ambulatory surgery center."
By improving convenient access to high-quality, ambulatory services, Dartmouth-Hitchcock will be able to provide the most effective and efficient health care for patients with a goal of patient recovery at home instead of at the hospital. With a focus on convenient, comprehensive services all in one location, D-HH will be adding and expanding medical specialties at the Manchester clinic.
View a video of the groundbreaking here.
Participating in the groundbreaking were (pictured above, left to right) Tacee Walker, DO, Regional Medical Director for Outpatient Perioperative Services; Tom Goins, Vice President for Facilities Operations; Craig Beck, Vice President of Community Group Practice Business Operations; Joanne Conroy, MD, CEO and President of Dartmouth-Hitchcock Health; and the Hon. Joyce Craig, Mayor of Manchester, NH. (Photo by Mark Washburn/Dartmouth-Hitchcock)
About Dartmouth-Hitchcock Health
Dartmouth-Hitchcock Health (D-H Health) is a non-profit academic health system primarily serving New Hampshire and Vermont as well as patients from across New England. As the largest health care system and employer in New Hampshire, D-H Health is an integrated health care delivery network of providers and member organizations with the same commitment to provide the highest quality of care to the nearly 2 million community members we serve throughout the region.